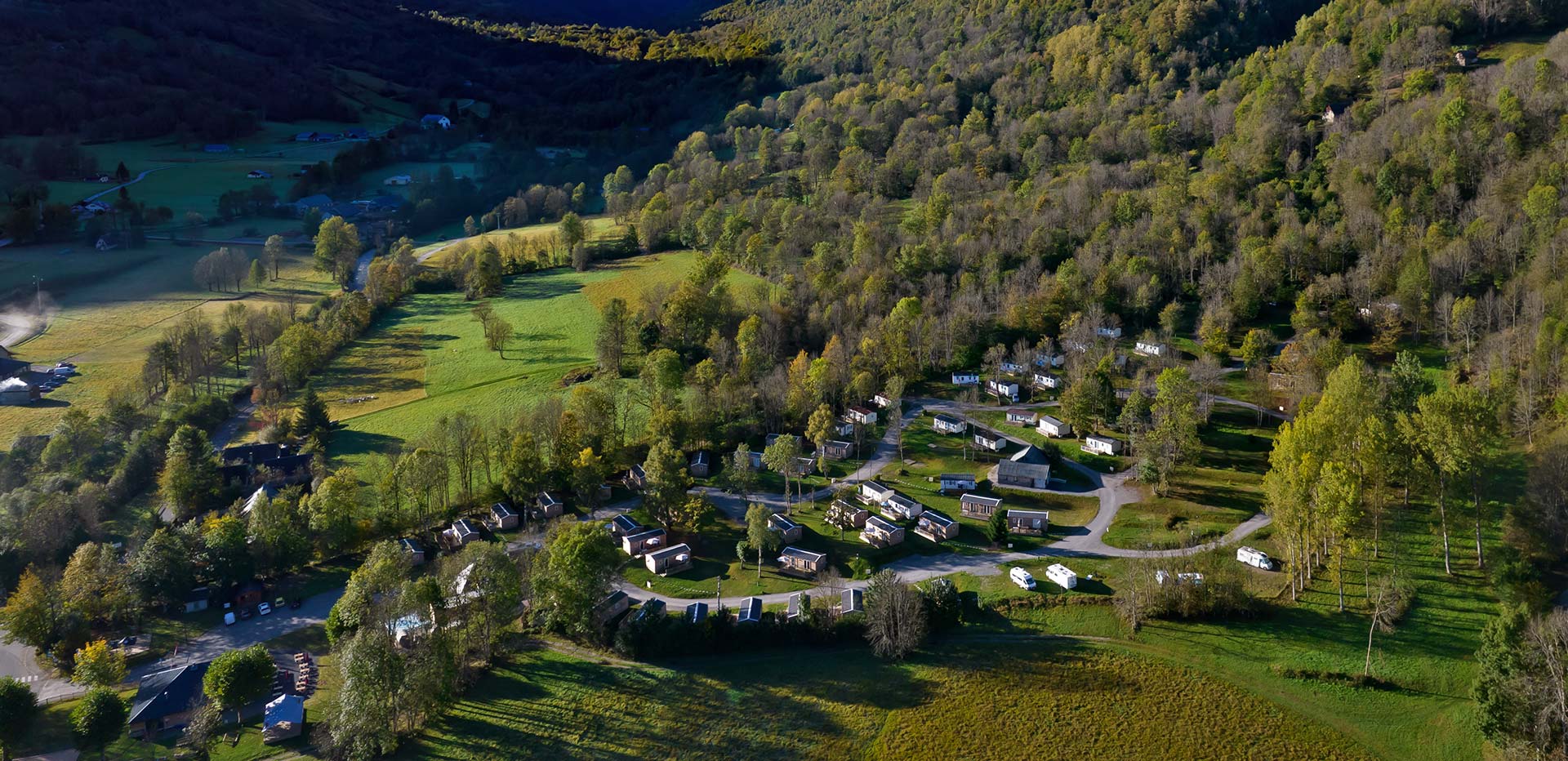 Frequently Asked Questions
I wish to Reserve
HOW TO BOOK?
How to check availability or get a quote?
Go to our website, fill in the search bar by writing the date of your stay and the type of accommodation at the top of the screen… and make your choice.
You can also send us an email at hello-loudenvielle@wellness-sport-camping.com or contact the campsite directly on +33 (0)5 62 99 68 85
When and how do I pay the balance of my stay?
The balance of your stay must be paid 30 days before your arrival at the campsite. We strongly advise you to use the internet payment method. You can also by bank transfer, by check or holiday checks of the ANCV, sending by letter, recommended, directly at the campsite La Pène Blanche.
See our Conditions of Sale
How to get a brochure?
You can receive our brochure by mail or e-mail, more information (link to the brochure for download)
What is the minimum stay?
All year round it is possible to stay from one night in pitch with or without reservation.
In rental the duration of stay is always at least 2 nights. You can make a price simulation by clicking on the button BOOK.
Can I choose a location or specify a preference?
Without specifying when booking, location numbers are assigned randomly.
When making your reservation under the «NOTES SEJOUR» and subject to availability, specify a location number or the wish to have side-by-side accommodation. It is necessary to indicate the number of the location/rental and if necessary the name of the family next to which you wish to be placed. Our teams, during the validation of your reservation, will confirm to you the good consideration of this wish. In case your request cannot be met, we will contact you again and you can either withdraw this option or give other investment indications.
How to book several pitches or rentals at once, or side by side?
Our website allows to book only one location or accommodation at a time. To be sure to book several accommodations side by side, contact the campsite by phone at +33 (0)5 62 99 68 85 or by email at hello-loudenvielle@wellness-sport-camping.com
How to get a map of the campsite?
You can find our map on our website Link to PDF Camping map
Are pets allowed?
Pets are welcome on some rentals! For the comfort of all, only one animal is accepted per rental or per location, with a daily supplement. Dangerous or aggressive animals and category 1 and 2 dogs are not allowed on our sites. Your pet should be vaccinated, kept on a leash, and manure collected.
How many vehicles per location or rental?
Only one vehicle is allowed to park inside the campsite. You can park directly on the pitch or on nearby car parks. We try to limit traffic on our site to preserve its tranquility. All additional vehicles must park outside.
Do you offer charging stations for electric cars?
To date, no charging stations are available.
The use of the sockets of your site or rental for this purpose could lead to a break in the network of the whole campsite. In order to know the charging stations closest to your place of stay, we invite you to visit the following website: https://fr.chargemap.com/map
Do you accept unaccompanied minors?
No, unaccompanied minors are not accepted even with a parent's attestation.
Is it possible to add a tent or a barnum next to my accommodation?
No, it is not possible to add a barnum or a tent next to your accommodation. Additional tents are possible on camping pitches, within the limit of 1 small tent.
OFFERS AND PRICES
How to check availability and calculate the price of my stay?
To find out the exact price on the dates requested, simply simulate a booking on our site, by clicking on the BOOK button once your type of accommodation and your dates of stay selected, we will show you the available accommodation and their rates. The price displayed at this stage is the price of the accommodation (or location) alone excluding options, application fees, optional cancellation insurance, and any discounts.
What is included in my rate?
With the reservation of a stay in pitch or accommodation, you have access to all free or paid facilities and services of the campsite. Included in your price: Spa Exterior access, petanque court, wifi in the campsite, activities, playground, etc. On the other hand, additional fees are payable: additional services and rentals, drinks at the bar and restaurant, bike and e-bike rentals during the summer period.
Prices in our campsite include:
Accommodation, in the reserved category
Water, gas and electricity
Location for a car
Camping services according to the period chosen
Children's activities according to the period chosen
Evening entertainment depending on the period chosen
Wellness activities (yoga, meditation, etc.)
Access to the wellness area (Japanese, Nordic and sauna baths) and common areas of the campsite (bowling, children's games, bar area, chill out, etc.)
Access to sanitation.
Our prices do not include:
Cancellation insurance, application fees, tourist tax
Surcharges (see our rates)
How do offers and promotions apply?
The Promo and/or partner codes are to be filled in during your booking after selecting your accommodation/location, the dates of stay. Offers and promotions are never retroactive.
INSURANCE
What does your cancellation insurance cover?
Our cancellation & interruption insurance will not allow you to refund in case of a simple change of mind. However, it guarantees many events that are not your fault, for the insured or other participant in the stay: a few examples: death, accident or serious illness including COVID, hospitalization of the insured, a relative or a family member. Complications of pregnancy of the insured person, refusal of tourist visa, separation (PACS or marriage), obtaining a job, cancellation or modification of paid leave, contractual termination, serious damage to the vehicle, cancellation of one of the persons accompanying the insured person (maximum 9 people)…
Find all the General Insurance Condtions.
In which case can you take out cancellation insurance?
Our cancellation insurance allows you to protect yourself from external circumstances that would prevent you from enjoying your stay. You can purchase this insurance when booking.
Find all the Terms and Conditions of Insurance
Before my Stay
MY STAY
When will I receive my booking confirmation?
The booking confirmation is sent by email automatically after payment of your deposit. If you do not have an e-mail address, it will be sent to you by post.If you have not received a confirmation email, remember to check the spam in your mailbox or the correct spelling of your e-mail or postal address.
Otherwise, you can ask us to send it back to you, by email hello-loudenvielle@wellness-sport-camping.com or by phone on +33 (0)5 62 99 68 85 . You will also find all the information about your stay in your customer area.
I wish to add services
This is possible, for this you can contact the campsite directly by email hello-loudenvielle@wellness-sport-camping.com or by phone at +33 (0)5 62 99 68 85.
Can I book my activities in advance?
No it is not possible to book the activities in advance.
What are the arrival and departure times?
In location, the reception is from 14 hours and the departure at noon maximum during the school holidays (and up to 14 hours outside the holidays). In rental, you can access your accommodation from 16 hours and you must return the keys before 11 hours during the school holidays, and before 16 hours outside the holidays.
If you arrive outside the reception hours, please inform the Campsite.
I will surely arrive after the closing of the reception, how should I proceed?
Contact the reception of the campsite, preferably by telephone in order to see (depending on your arrival time) how to organize yourself. Attention the barriers of our sites are closed from 23h, beyond this time no vehicle will be able to enter the site.
Do I have to post bail?
A deposit of 400€/rental will be requested upon arrival and returned upon departure.
This bond can be settled in two different ways:
Credit Card Imprint: the imprint will be taken upon your arrival at the campsite.
by bank cheque: you can give the latter at the time of delivery of the mobile home keys, the latter will be returned to you at the time of your departure
*It will be returned to you at the end of your stay if no deterioration is to be regretted and if the cleaning was done in the mobile home
CANCEL OR MODIFY
How do I change my booking?
In location and rental:
Please email: hello-loudenvielle@wellness-sport-camping.com
or contact the campsite reception on +33 (0)5 62 99 68 85. Changes to your reservation can be made free of charge, subject to availability; a surcharge may be requested depending on the requested change (period, type of accommodation, etc.).
How do I cancel my booking?
Simply send an email to: hello-loudenvielle@wellness-sport-camping.com. . No cancellation request will be taken into account by phone.
The cancellation conditions are available in our General Sell Conditions
In all cases, the campsite will withhold a part of the sums already paid calculated according to the cancellation date, according to the conditions below..
More than 45 days before the start of the stay 5% of the total price
Between 45 and 30 days before the start of the stay 30% of the total price
Between 30 and 15 days before the start of the stay 50% of the total price
Between 14 and 8 days before the start of the stay 75% of the total price
Less than 7 Days and not presented 100% of the total price
Any shortened stay as well as any service voluntarily abandoned by a participant will incur a cancellation fee of 100% of the price of the shortened or abandoned stay.
If you have insurance, refer to the "insurance" paragraph.
I cancel or shorten my stay. What do I have to do to get a refund from Cancellation Insurance?
In case of cancellation or interruption of your stay for one of the situations covered by the insurance. See general conditions of insurance.
1 – Notify the campsite of your withdrawal or early departure
2 – Report your situation within 5 working days (After this period, you lose all right to compensation)
• By phone: 05 34 45 31 50
• By email: gestion@ucpa-assitance.fr
IMPORTANT Contra number to remember: #5791
3 – You must send them the cancellation invoice provided by the campsite, as well as proof of your reason for cancellation.
Attention! This insurance is offered through a third party organizations. After informing the campsite of your withdrawal or early departure, you are responsible for reporting your situation to the insurer.
MEANS OF PAYMENT
What payment methods do you accept?
Credit card
Holiday check for a reservation made at least 15 days before the stay
Check for a reservation made at least 15 days before the stay
Cash (on site only, for camping pitches without prior reservation)
Bank transfer
Pay by bank cheque
Please note that we do not accept bank cheques less than 15 days from the date of stay.
In case of payment of 100% of the stay by check, your reservation will be guaranteed only after receipt of your check accompanied by the booking contract, subject to availability.
These items must be sent by registered mail with acknowledgement of receipt, see address above.
Pay by cash
We do not accept any booking with a cash payment, these are accepted only on site.
My Stay in Pitch
PRACTICAL INFORMATION
How many people can camp on the same site?
The maximum capacity allowed on a pitch for tents, campers and caravans is 6 people (children and babies included).
If you exceed this maximum capacity, you will need to reserve a second location. The Basic Pitch package includes 2 people. Additional persons (adults or children) must therefore pay a free supplement or pay according to the periods.
What type of electrical outlets are available?
Our campsites are equipped with EU plugs. Remember to take your adapters! The campsite can lend you an adapter for a cuation. A large extension cord is also handy.
Are barbecues accepted?
We accept electric, gas and coal barbecues.
My Rental Stay
PRACTICAL INFORMATION
What are the different types of accommodation?
We offer different types of accommodation in several categories:
Canvas & Wood: our Lodge trapper tents
Comfort mobile home with wooden terrace – Mobile home more than 8 years of operation
Premium mobile home with wooden terrace – Recent operating mobile home of -8
What is the maximum capacity of the rental accommodation ?
On our entire rental offer, the maximum capacity is between 1 and 8 people (baby included). You must consult our accommodation pages (put link to accomodation page) to know the capacity of each accommodation. For safety reasons, it is not possible to go beyond . If you exceed this maximum capacity, you will need to book a second accommodation.
Do you offer accommodation for people with reduced mobility?
Yes, we poposon a mobile home PMR 4 people with wooden terrace.
Are the rentals equipped with heating, air conditioning?
We have heating in all our accommodation in our mobile homes PREMIUM/ 32m² of electric chimneys.
Our campsite is committed to energy savings and environmental protection in order to minimize its environmental impact as much as possible, the accommodations are not equipped with air conditioning.
INCLUDED (OR NOT) ?
What is included with my accommodation?
With the reservation of your accommodation, are included: all charges (water, gas, electricity), a vehicle, access to the services of the reception, the outdoor spa, the playgrounds, other equipment and the activities offered (free or paid). You can also select additional options offered when booking.
Are sheets and towels provided?
They are available for rent . Make sure to check them off when you book.
What facilities does my accommodation have?
For each of our accommodation you can refer to the detailed inventory . Learn more about our different accomodations.
Can we rent baby equipment?
Yes this is possible! We offer a baby kit that includes: the cot and a high chair. You can book this kit by phone or on our website. This option is paid for in July and August, free the rest of the year, subject to availability.
Do I have to clean when I leave my accommodation?
You can subscribe to our cleaning option when booking, 80€, this one does not include the kitchen area.
The dishes should be washed and stored, the trash emptied, the fridge clean and empty. You can also do the cleaning yourself, in this case the accommodation must be made in perfect cleanliness.
Otherwise, the 80€ household deposit will be charged..
During my Stay
WELCOME
When is late check-out possible?
Outside of all school holiday periods (winter, spring, autumn, and summer holidays), departure is possible until 4pm (rental) or 2pm (pitch), without extra charge. To benefit from it, remember to specify it as soon as you arrive. If you stay on a bridge period, this late departure is only possible if you leave on the last day of the bridge.
I wish to extend or shorten my stay
Extension is always possible (subject to availability). If you have booked (rental or pitch), no refund will be possible in case of early departure. See the TAC.
Are campsites accessible to people with reduced mobility?
All our sites have sanitary facilities adapted to people with reduced mobility. However, the natural configuration of the places (high altitude difference, stony path, etc.) can make moving around complicated.
I'm on the scene and I need help
Do not hesitate to meet the reception team on site, they will make every effort to assist you, if you are missing some effects in your accommodation, if you are unable to operate an equipment.
CATERING
What type of restoration do you offer?
Our campsite offers a simple and friendly catering service, enjoy dishes prepared on site.
Should you reserve your table at the restaurant?
Booking is not mandatory but recommended if you book for a large number of people.
Should we reserve for breakfast?
You can absolutely have breakfast on site without a last minute reservation! However, booking is strongly recommended to guarantee the availability of all products.
ACTIVITIES AND SERVICES
Are the activities paying?
On the Wellness Sport Camping activities are offered during school holidays and weekends free of charge. Our teams will also resign you to the activities to be done in the area (for a fee) with our partners.
What services are available on site?
Tourist information point
Tourist information point
Board games and library area
Wifi access throughout the campsite
Bread and pastries on order
Convenience store
Convenience store
Children's play area
Ping pong table, petanque court depending on the season
Outdoor spa including:
A Japanese bath with PMR access: a hot tub with 38° water to offer you a pure moment of relaxation.
Nordic bath (38° water) and sauna
The SPA area is allowed to children over 6 years with their parents. Unsupervised space.
Is there a pool in the campsite?
We do not have a swimming pool on the campsite but we have a wellness area (Japanese baths,
Nordic and sauna).
In July and August, the ALUDEO swimming pool is open, it is 1 km from our campsite. Must-see place summer if you have children! (Entrance fee, information at the reception). The entrance is valid all day with possibility to go out.
You will find swimming pool for the biggest, pentaglisse and spiral slide, paddling pool and with slides.
After my Stay
How do I proceed if I forgot a personal effect when I left?
Contact the campsite directly.
How can I get an invoice for my stay?
You will receive the invoice for your stay directly by email, after having sold your stay.
Why do I need to complete the satisfaction survey?
Each feedback is valuable for us, that is why after your departure a satisfaction questionnaire is sent to you by e-mail. Whether your stay has met all your expectations or you have encountered difficulties, do not hesitate to submit your opinion by completing the questionnaire. We read each questionnaire carefully. Your answers help us to further improve our offers and services and to better adapt them to your expectations.
How to make a complaint?
Our teams are committed on a daily basis to ensure that your holiday takes place in the best conditions and that your experience is memorable. If your stay did not give you full satisfaction, we invite you to tell us.
Your complaint must be sent, by registered letter with acknowledgement of receipt, accompanied by supporting documents, specifying the number of your reservation to either the postal address:
UCPA – Complaint Customer Relations Division
21-37 rue de Stalingrad CS 30517 – 94741 ARCUEIL CEDEX.
Or by email: reclamation@ucpa.asso.fr
Any complaint after departure must be sent within the mandatory period of fifteen days after the date of return. After this period, no mail will be considered.
If you are on site and you encounter a problem, our teams are at your disposal, so do not hesitate to consult them directly.
My costumer account
How and why create a customer account?
You can create a customer account by clicking on the "My Account" menu. Via your customer account, you will have access to a personal area that includes all the necessary elements to keep track of your reservations. You can find all your past and future bookings.
How do I change or recover my account password?
On the MY ACCOUNT page you can click FORGOT PASSWORD to receive a reset email. Remember to check your spam or junk mail!
I wish to unsubscribe from newsletters
You can unsubscribe from our newsletters by selecting the "Unsubscribe" link at the bottom of each of our newsletters. You may still receive information from us while our systems are being updated.
I wish to have my data modified or deleted
For any request to delete or change your personal data we invite you to write an email to hello-loudenvielle@wellness-sport-camping.com.
You didn't find the answer to your question?
You can contact our team by email at hello-loudenvielle@wellness-sport-camping.com
Do not hesitate to consult our TAC